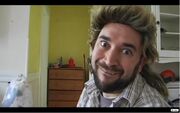 Craig with a wig
is an alternative version of wheezy waiter that usually dwells in Craig's kitchen.
Personality
Edit
Craig with a wig has severe depression and is normally found sitting at the kitchen table gazing at nothing and feeling too unmotivated to even move a muscle. He has mentioned that he does nothing but waste time. Whenever Wheezy adresses him or when he is mentioned, Craig with a wig gives a pessimistic, cynical view of the topic Wheezy discusses. He then stares at the camera and his expression changes from depressed to a goofy obnoxious attempt at a smile, accompanied by his outro theme and a "ding".
Ad blocker interference detected!
Wikia is a free-to-use site that makes money from advertising. We have a modified experience for viewers using ad blockers

Wikia is not accessible if you've made further modifications. Remove the custom ad blocker rule(s) and the page will load as expected.